W
elcome to another 'Job Guide'blog post! It's been a while since we had one of these and we thought it was time to blow some new life in this series. Last time we addressed the Social Media Team, today however we're going to cover the wonderful Library team and what it means to be a part of it.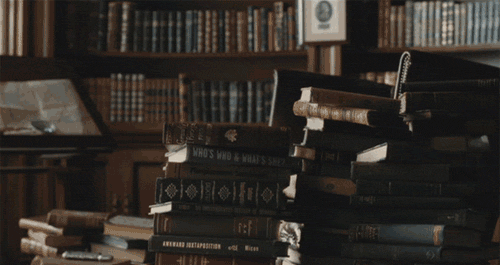 My name is Aloy Leigh Blake and I will tell you all that I can about the Library team with the help of some of the Librarians and the Library Leader,
Maximilien Dupont
himself! Now you might be wondering why the library team is such an important and valued part of World of Mystic Falls. I tell you why: How else would you be able to learn everything about Witches, Werewolves, Vampires and Hybrids? Yes you could follow classes but where do you get your information for your assignments? That's right...the Library. The teachers didn't get their information because it fell into their lap you know. It was written by the Library team and it's leader.  
But! Why believe me on my word ? You don't know me that well and for all you know I could be making this up as I go along. Which is why I contacted Maximilien to tell you all something about the library and why you should join it's team! Max, the floor is yours sir:  
Maximilien: Reading is fundamental, so the library is an important place to provide books so everyone can read them. And also we have each day new people coming in to learn more about the supernatural things going around in Mystic Falls. And what way is better than to learn from books. So if you don't know the answer on something come have a look at the books we have, maybe you can find a book that can help you out. And we always try to upload new books as much as possible so keep an eye on the library!
Well you heard it ! The library is a vital part to the site and not only that, it's also incredibly fun to be a part of the library team and write books. My very first job on any Wo site was librarian. I can heard you ask
"Why aren't you one now?"
it's simply because I wanted to do something else as well. But if you want to know what it's like to work for the library we have one of the oranges who would love to spare a few words about it :  
Librarian: Although I'm just a pumpkin/librarian for a short time, I love to be on the team. My goal is writing at least once a month a completely new book, but I'm trying to do more and fill the library up with the other pumpkins. While writing the books, we need to be sure of the information, so I do a lot of research and that's informative. I learn about many different subjects and that's what I really love. The team is organized and we all have a lot of interest in writing the books and we do this motivated, and we love to help each other and others. I'm glad to be on the team and hopefully, I'll be there for many more months. Every team is great, but this one is just a bit more special. I really recommend it.
So now you have all the information you need about the library, except how to apply for this amazing team. But don't despair! I have the requirements for you right here :  
- Be good and spelling and expressing yourself.
- Know your grammar and punctuation.
- Can work alone and in groups.
- Have the time to write and update, and read the books in the library and change them (if needed).
- Be active on WoMF.
- Be at least 13 years old IRL.

Application Requirements
- Your username on WorldofMysticFalls (first and last name).
- Your IRL age.
- Your IRL country.
- A bit about you and why you should be chosen.
- The name of your other users, if you have any - it won't affect whether or not you get the job.
- Write an idea for a new book in the library; What should it be about and why is it relevant. And last, but not least, write a snippet of the book.

Send your application a mail to Maximilien Dupont with "Application for Librarian - Username" as the subject.
So wait no longer and go apply!
With love,