Hello and welcome to the second issue of Fangtastic DIY and recipes!
This will be a series of blog posts that will look at different TVD/TO craft and baking projects and how you create them. So, let's get started, shall we?
TODAY'S PROJECTS 
What you will need:
Sprite

Ice

Grenadine

Syringe without needles
Instructions:
1. Pour Sprite over ice, wait until it stops fizzing.
2. Fill the plastic syringes with grenadine
3. Squirt some of the Grenadine into the glass for a fun taste and look.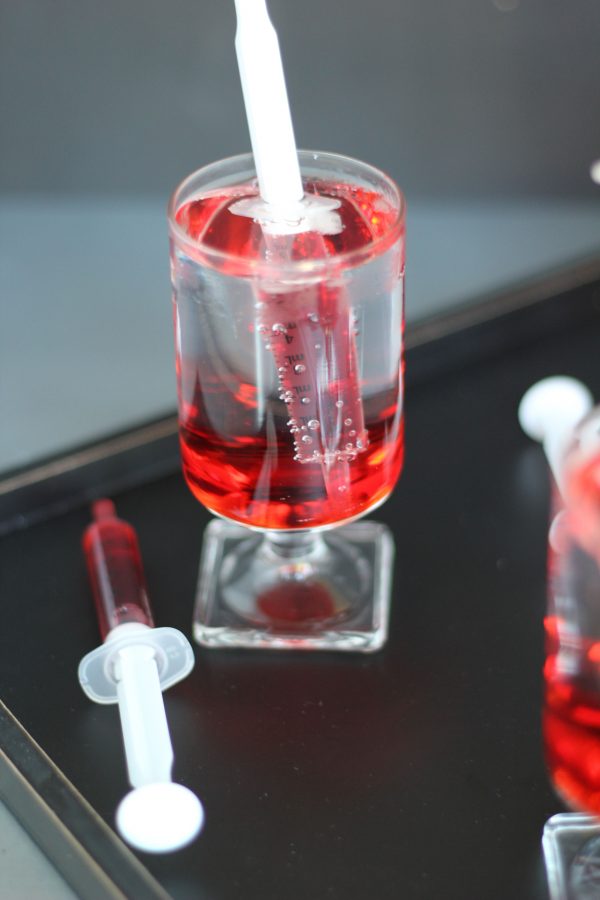 What you'll need:
8 Red Apples (For example Gala)

8 oz white chocolate

2 Cup Sugar

½ Cup water

1 Tbsp Red food dye

lollipop sticks/ branches (cleaned)
Instructions:
Start out by washing your apples. If the apples don't stand on the counter, just slice a little off the bottom.

Place your lollipop stick in the apple at this point.

Gently melt the white chocolate in the microwave or over a water bath.

Spoon the white chocolate all over the apple and allow the excess to drip off.

Place them on a tray lined with parchment paper to dry, for roughly an hour. The chocolate has to be completely set before adding the 'blood' caramel.

To make the blood caramel: Place the sugar and water in a heavy-bottomed saucepan. Heat on medium/ low heat until the sugar dissolves. Don't allow to simmer until the sugar has dissolved.

Once dissolved turn up to medium heat and allow to simmer for 4-5 minutes until you see a light caramel color. Turn off the caramel and whisk in the red food dye to reach your desired 'blood' color.

Let it stand for a minute to cool a little before spooning it over the apples.

Spoon the caramel over your apples generously and let it drip down the side for extra effect.

Work fast with the caramel as it starts to harden quickly. If it does, don't worry. Just heat it up again on low heat until it melts. You can repeatedly heat it until it is all gone.

Let your apples cool and set, and then enjoy.
Video if you want to see it being done: 
https://www.youtube.com/watch?time_continue=31&v=u_FHw7Y4rRY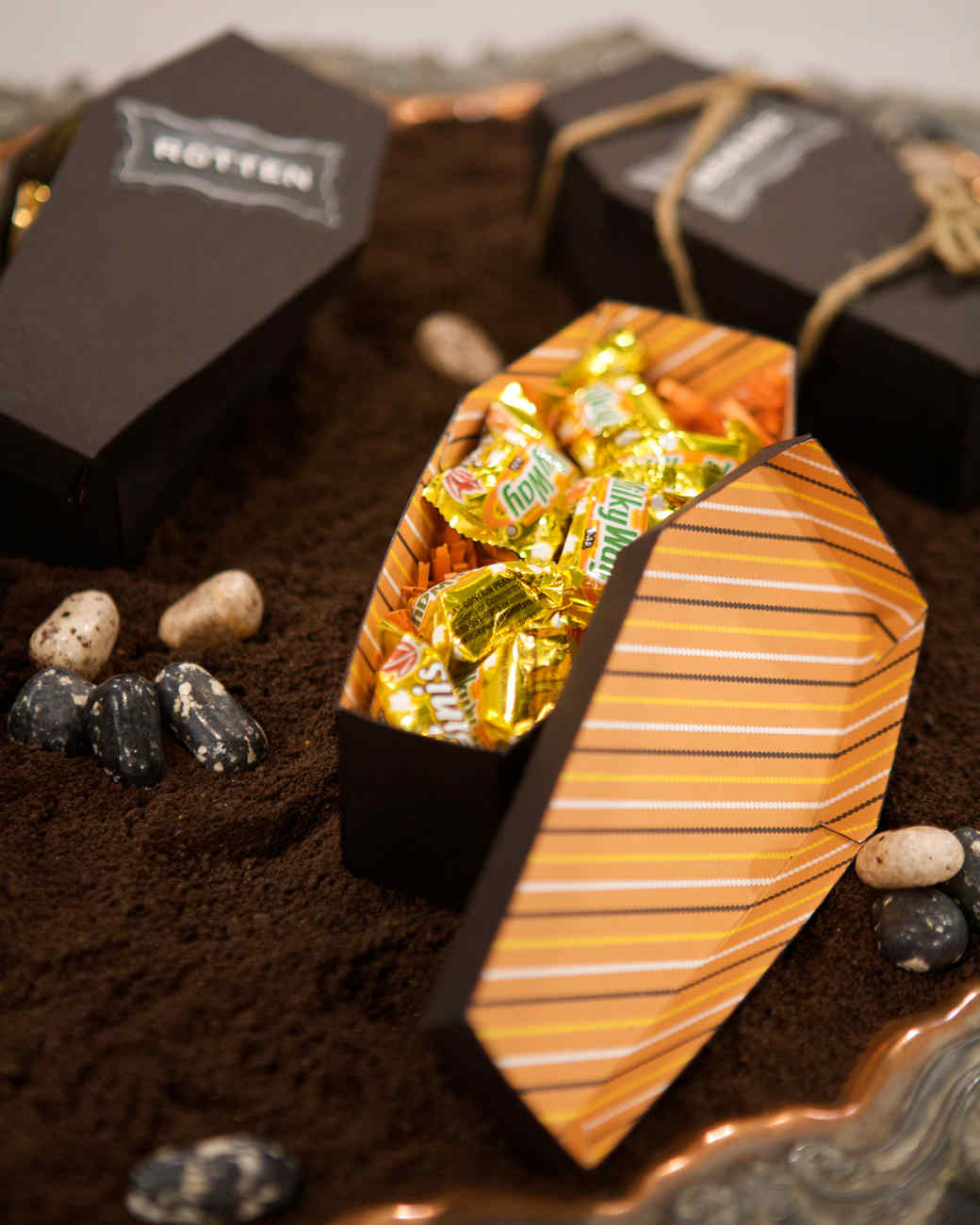 What you'll need:
Instructions:
Fully adhere decorative paper to black cardstock with a large glue stick or full-sheet double-sided adhesive.

Print top and bottom coffin templates on regular 8 1/2-by-11-inch paper. Place one template on each sheet of lined cardstock and staple around the template to hold in place. Do not staple inside the lines of the template, as this will create holes in your finished box.

Using a bone folder and ruler, score on the dotted lines of each template, pressing through to the paper and cardstock underneath.

Using a craft knife or scissors, cut on solid lines of templates, working from the inside out.

Fold sides and tabs of both top and bottom where scored. Using a glue stick, glue tabs to the inside of box bottom and lid as shown in the template. Clamp with paperclips to secure until dry.

Fill the bottom of the box with candy. Add stickers to the top of lid and place lid on top of the box. Wrap a 1-yard piece of rough twine around the coffin a few times, and tie to secure.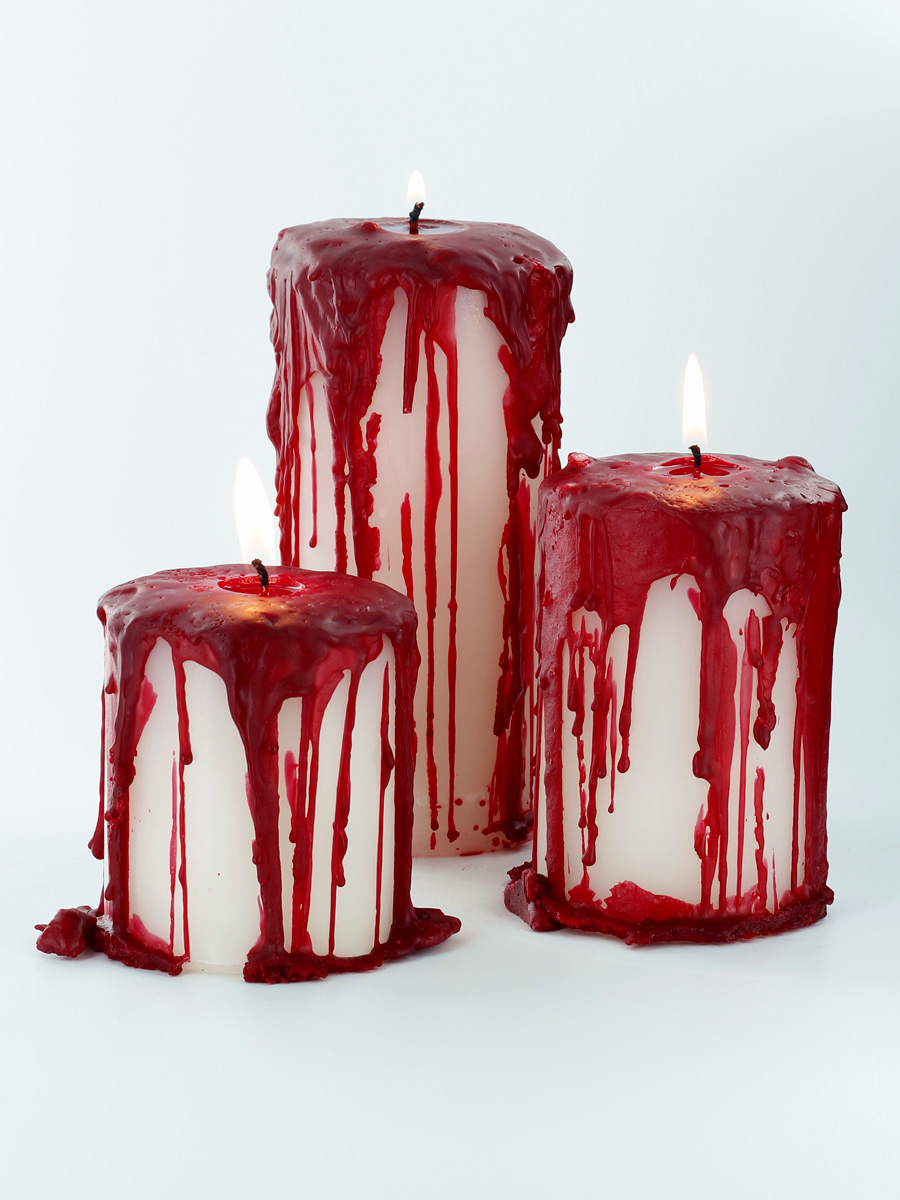 What you'll need:
White candles (however many you need to make and it can be any kind, either taper or a block candle)

1 red candle

Lighter

A piece of scrap paper to catch the splatter

Candlesticks to

display

completed candles
Instructions:
1. Put your taper/candle into the candle-stick on top of the scrap paper. I don't worry about getting red wax on the candle-stick because wax is really easy to scrub off later and extra drops just add to the realness of this creepy decoration!
2. Light your red candle, not the white, just the red one and hold it about half an inch from the top of the white. Let it drip…
3. The trick to getting long eerie drips is to hold the red candle still. Let it drip 5-10 times in the same spot before moving it.
4. Play around with it until you achieve the look you want and it looks good from every angle.
5. Blow out the candle once you are done. 
Sources: 
- https://www.thisgrandmaisfun.com/bloody-shirley-temples/ 
- https://www.biggerbolderbaking.com/cursed-candy-apples/
- https://www.marthastewart.com/265416/coffin-treat-box 
- http://www.firsthomelovelife.com/2013/10/bloody-candle-halloween-decoration.html 
Thank you so much for reading Fangtastic DIY. Let us know in the comments what you think and send us pictures if you make any of them! Perhaps your craft/art will be featured next week :D 
Written by,
Alyse Leigh & The SoMe Team
Check out our other SoMe accounts:
 Instagram: https://www.instagram.com/worldofmysticfalls/

 Twitter: https://twitter.com/WoMysticFalls

 Facebook: Coming Soon